Established in 1873 as a gentlemen's literary society and re-formed in 1977 as a mixed club after being in abeyance from the outbreak of World War II, Perth Burns Club has had an eventful history and is open to all who share an interest in the culture and heritage of Scotland.
A brief history of the Perth Burns Club can be found on the about page. Please browse the menus to discover the wide programme of events organised by the Club, to which visitors and guests are warmly welcome. Use the contact page if you'd like to know more.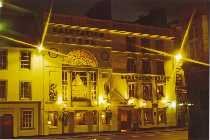 The Salutation Hotel, est. 1699, host to many Club meetings and events.
The objectives of the Perth Burns Club are:
To promote social and friendly communication amongst the members by social gathering or otherwise.
To encourage the study of the life and works of Robert Burns.
To foster an interest in Scottish literature, art and music by lectures, competitions or otherwise.
To support the objects of The Robert Burns World Federation.
Please contact the secretary or any committee member to find out more about membership and club activities.